---
Preston North End v Derby County Deepdale 20/4/2021 - themaclad - 19-04-2021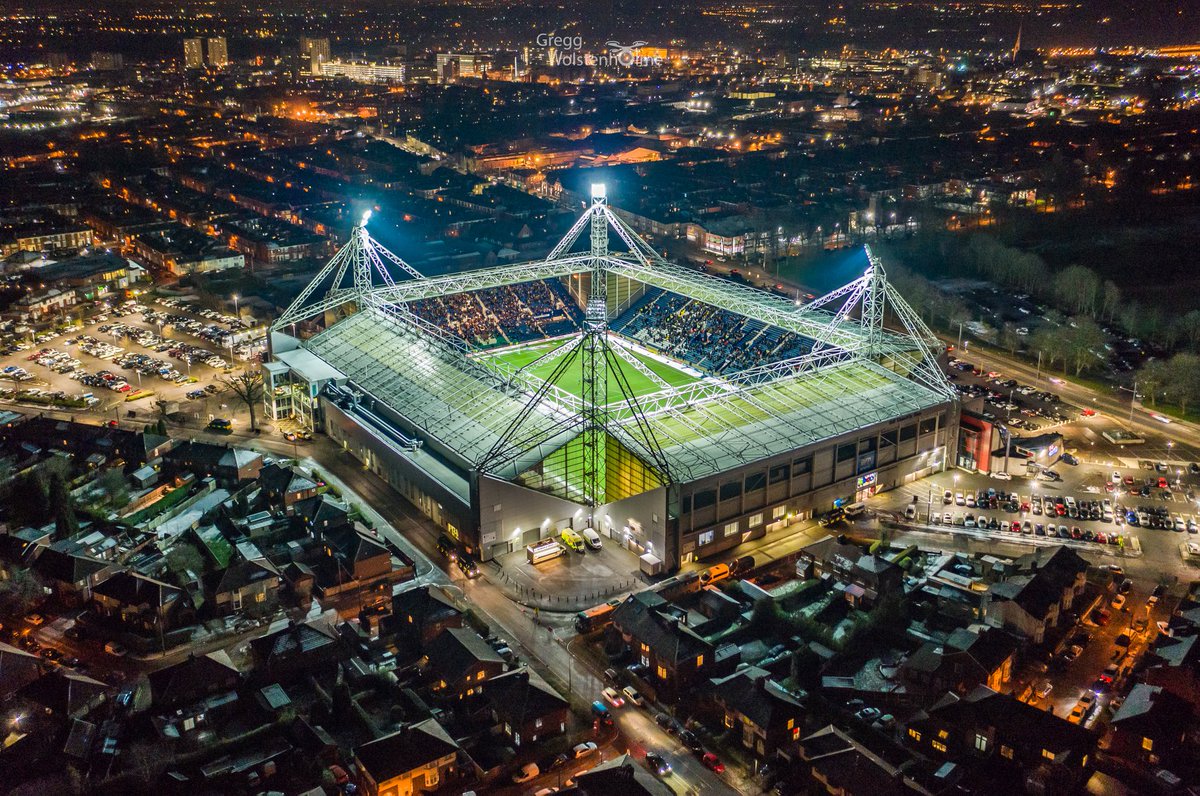 LAST TIME OUT

PLASTICS 2 DERBY 1

FORM GUIDE

PNE 8 DERBY 3

The penultimate home game of the season finds 10 points clear of the Merry Millers although with games in hand have the feeling that the two Covid enforced breaks will ultimately cost them their place in the division.
Just above them are Derby tomorrow's visitors who in an ideal word would love to see being relegated, personally notthing against any Rams fans but the atual running of the club over the last couple of seasons as them them sail extremely close to the wind in regards to rules.
Apparently they have now been taken over woner if that includes owning the ground given the last owners ability to sell the ground to himself all allegedly of course.
Then we have the signing of the now manager whse original deal was sponsored by a betting company whose name adorns their shirts and ours as a matter of fact although hopefully for not much longer.
When we won their with a last minute goal the bet firm who sponsor both of us tweeted that Derby were so unlucky to lose.
On the field after a good start Wayne Rooney's Derby County to giive them their correct Sky name have struggled of late a desperate shortage of goals although Tom Lawrence is back and is still banging them in.
The side they put out on Friday seemed to be bereft of forwards and they have only found the net 31 times this season(so we know what will happen tomorrow night)
Third meeting of the sides this season and unusally given our dreadful recent recors against the Rams we have won them both admittedly after both games saw them reduced to 10 men.
One point will take us to 50 points, three will leave them in deep crap.


---
RE: Preston North End v Derby County Deepdale 20/4/2021 - themaclad - 19-04-2021

It's the penultimate game of the season at Deepdale and it is one where both teams will be fighting tooth and nail for the three points as we face Wayne Rooney's Derby County for the third time this campaign.

After two wins at Pride Park, one coming under the management of Philip Cocu, North End will be looking to complete a season treble against the Rams, having not done a league double over them since the 2002/03 season.

Rooney will be eyeing a vital three points for his side, who currently sit four points above the last relegation spot, although Rotherham United still have two games in hand.

For PNE, they know that a win would put them nine points above County with both sides just having three games left to play and in a strong position ahead of their trip to Coventry at the weekend.

Head To Head: PNE wins – 51; Draws – 23; Derby County - 47

Team News
Liam Lindsay is available again after being unable to play against his parent club at the weekend. He will compete for a place in the backline for the Lilywhites.

The only definite absentees at this stage are Declan Rudd, Patrick Bauer and Joe Rafferty, with Daniel Johnson being assessed before the game.

For Wayne Rooney, Manchester United loanee Teden Mengi has returned to his parent club early, with a season-ending hamstring injury, whilst another of the Rams loan signings, midfielder Beni Baningime, could also miss out a hamstring problem.

There is good news for England's all-time leading goalscorer, with Martyn Waghorn set to return, but Lee Gregory (who is out for the season), George Edmundson and Jack Stretton not back fit.

Match Officials
For the third time this season – all at Deepdale - the match official will be Geoff Eltringham, who refereed our 1-0 home win over Bristol City back in December and the goalless draw with Reading in January.

His last PNE game before that was the game where Scott Sinclair scored his first goal for the club, versus the winger's former employers Swansea City on 1st February 2020.

Experienced County Durham referee Geoff, as well as the Swans draw, last season officiated the 3-1 win over Huddersfield Town back in November 2019, as well as our draw with Nottingham Forest at the end of August.

The last time we saw the north east official here in Preston before that, was for the superb home win over Norwich City back in February 2019, before which he also refereed our final game of 2018, when we took a point from a fine performance against Aston Villa.

Prior to that he was referee when the Lilywhites travelled to Ashton Gate and defeated Lee Johnson's Bristol City in October 2018 and also North End's trip to Elland Road back in September – making it four games in the 2018/19 campaign, having also officiated five games for Alex Neil's side in the 2017/18 season!

In that season, having taken charge our early season game at Derby County, Geoff also took charge of the Boxing Day trip to Barnsley, our January win at Nottingham Forest and March's victory over Bristol City at Deepdale and finally our goalless draw with Norwich City in mid-April.

He also refereed one North End game in 2016/17, the home clash with our Barnsley, having also done one the previous season, the 1-0 home win over Reading.

The year prior to that he took charge of three PNE games, including the 2-0 home win over Peterborough United in March. Back in the 2013/14 campaign he also took charge of North End twice, both of those at Deepdale - the 1-1 draw with Tranmere Rovers back in November 2013 and then the goalless draw with Sheffield United in March.

The County Durham official is an experienced referee who had taken charge of North End a number of other times in the past including the very first game after the departure of Graham Westley, when John Dreyer took the team against an in-form Bournemouth side and ran out 2-0 winners.

He also looked after a thriller back in 2010, when North End overcame Crystal Palace 4-3 at Deepdale.

Geoff has so far taken charge of 26 games this season, with 77 cautions and five red cards issued, and this will also be his third Rams game of the season, having taken charge of their home defeat to Watford and a home win over Huddersfield Town.

For the game, the referee will be assisted by James Wilson and Jonathan Hunt, whilst the fourth official will be Sam Barrott.

MACS VIEW
Almost there in safety terms, almost the end of what has been a unbelievably dire season due to not being allowed to go to games, this time of the season the walk to the ground and the Cherry Blossom Trees in full bloom, truly wonderful.
As for the match let's send them into a bigger fight than they already are in
Keep the faith we will sonn be back in the ground


---
RE: Preston North End v Derby County Deepdale 20/4/2021 - themaclad - 20-04-2021

1 up Whiteman

---
Ched 2-0

---
Ledson 3-0


---
RE: Preston North End v Derby County Deepdale 20/4/2021 - themaclad - 20-04-2021

That will be safely as Rams and Owls meet on last day, time to relax


---
RE: Preston North End v Derby County Deepdale 20/4/2021 - Lord Snooty - 20-04-2021

Nice one.

---
RE: Preston North End v Derby County Deepdale 20/4/2021 - themaclad - 20-04-2021

Join us and we can actually possibly get to Huddersfield again


---
RE: Preston North End v Derby County Deepdale 20/4/2021 - St Charles Owl - 20-04-2021

Thank you!!!


---
RE: Preston North End v Derby County Deepdale 20/4/2021 - themaclad - 20-04-2021

Yes done you a favour also not forgetting Millers as well


---
RE: Preston North End v Derby County Deepdale 20/4/2021 - St Charles Owl - 20-04-2021


(20-04-2021, 22:36)

themaclad Wrote: Yes done you a favour also not forgetting Millers as well

We need to rely on others to provide the favours with regards to Rotherham. Their run in is difficult and play game after game, that will be tough.


---
RE: Preston North End v Derby County Deepdale 20/4/2021 - themaclad - 20-04-2021

Love Derby to go would be superb


---